13. BASHED AT A CELEBRITY WEDDING BASH. AFTER A LONG FEUD CELEBRITIES MARTINE McCUTCHEON AND AMANDA HOLDEN COME TO BLOWS AT A CELEBRITY WEDDING BASH. IN THE ENSUING CAT FIGHT MARTINE McCUTCHEON STRIPS AND HUMILIATES AMANDA HOLDEN STRIPING HER TO HER UNDERWEAR. GOOD FEMALE V FEMALE FIGHTING ACTION WITH PLENTY OF CLOTHES RIPPING ABUSE.
€

3.00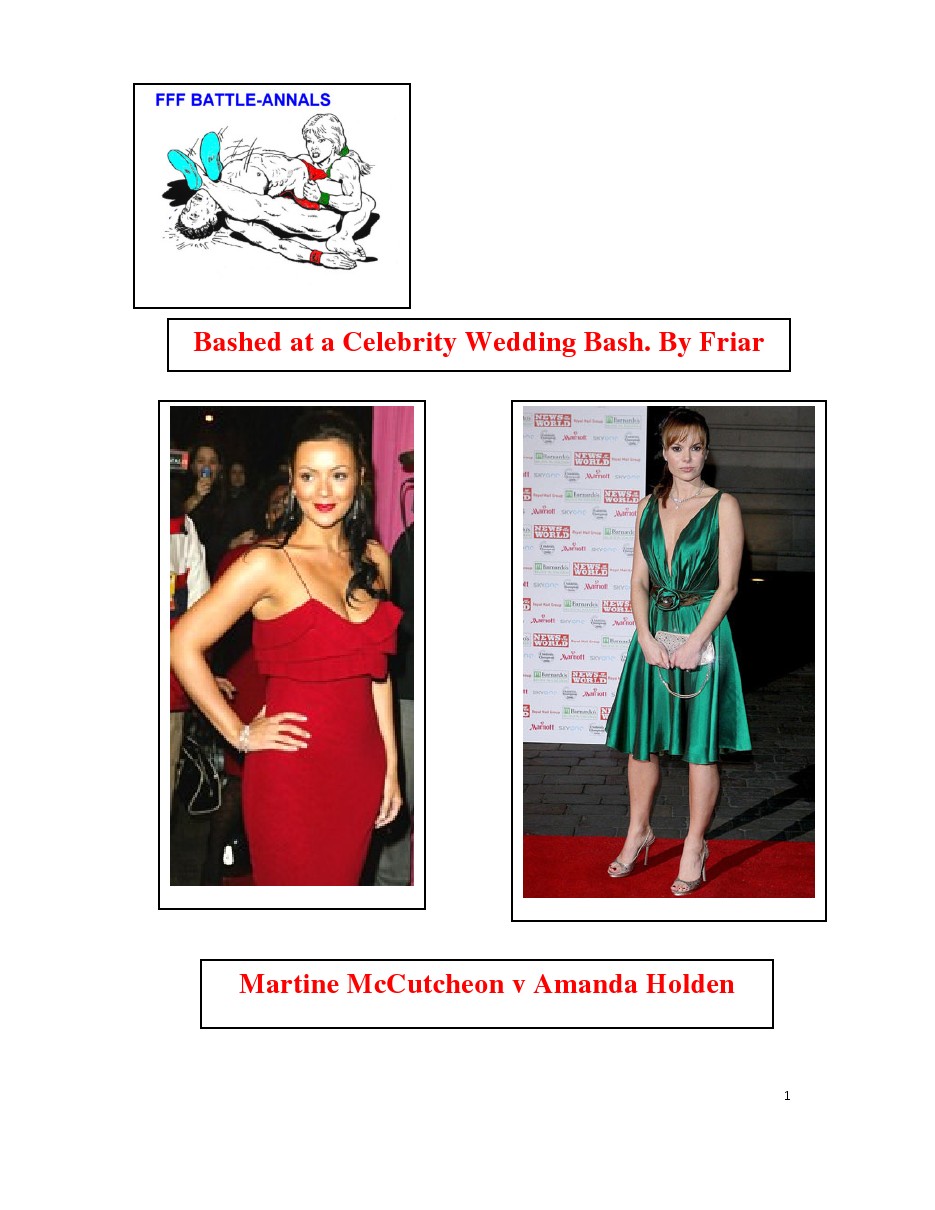 14 EVACUATION WHAT THE CAMERA DIDN'T SHOW. THIS IS AN ACCOUNT OF ONE THE PARTICIPANTS IN THE BBC TV DOCUMENTARY EVACUATION. HE RECOUNTS TOW CAT FIGHTS BETWEEN TWO OF THE GIRLS PARTICIPANTS A SNOBBISH WELL TO DO GIRL CALLED JOANNA AND A TOUGH STREET WISE HALF CASTE GIRL CALLED LAURA. JOANNA IS ALWAYS BELITTLING LAURA AND HER MIXED RACE PARENTAGE AND THINGS COME TO AHEAD AFTER A TUG OF WAR CONTEST. JOANNA SO ENRAGES LAURA THAT LAURA ATTACKS HER. THERE IS VICIOUS CATFIGHT IN WHICH JOANNA IS BEATEN AND STRIPPED TO HER UNDERWEAR IN FRONT OF ALL THE OTHER EVACUATION KIDS.
THEIR SECOND CATFIGHT IS CAUSED BY THEIR SHARED INFATUATION FOR A BOY CALLED FELIX. THEY END UP FIGHTING OVER FELIX IN THEIR DORMITORY. LAURA BEATS AND HUMILIATES JOANNA AGAIN STRIPPING HER TO HER UNDERWEAR. JOANNA IS ONLY SAVED FROM AND EVEN MORE HUMILIATING FATE BY THE TIMELY ARRIVAL OF THE MATRON. JOANNA SUFFER PHYSICAL AND MENTAL ABUSE AT THE HANDS OF LAURA AND IS RIDICULED ABOUT HER OLD FASHIONED UNDERWEAR BY THE OTHER KIDS. €4.00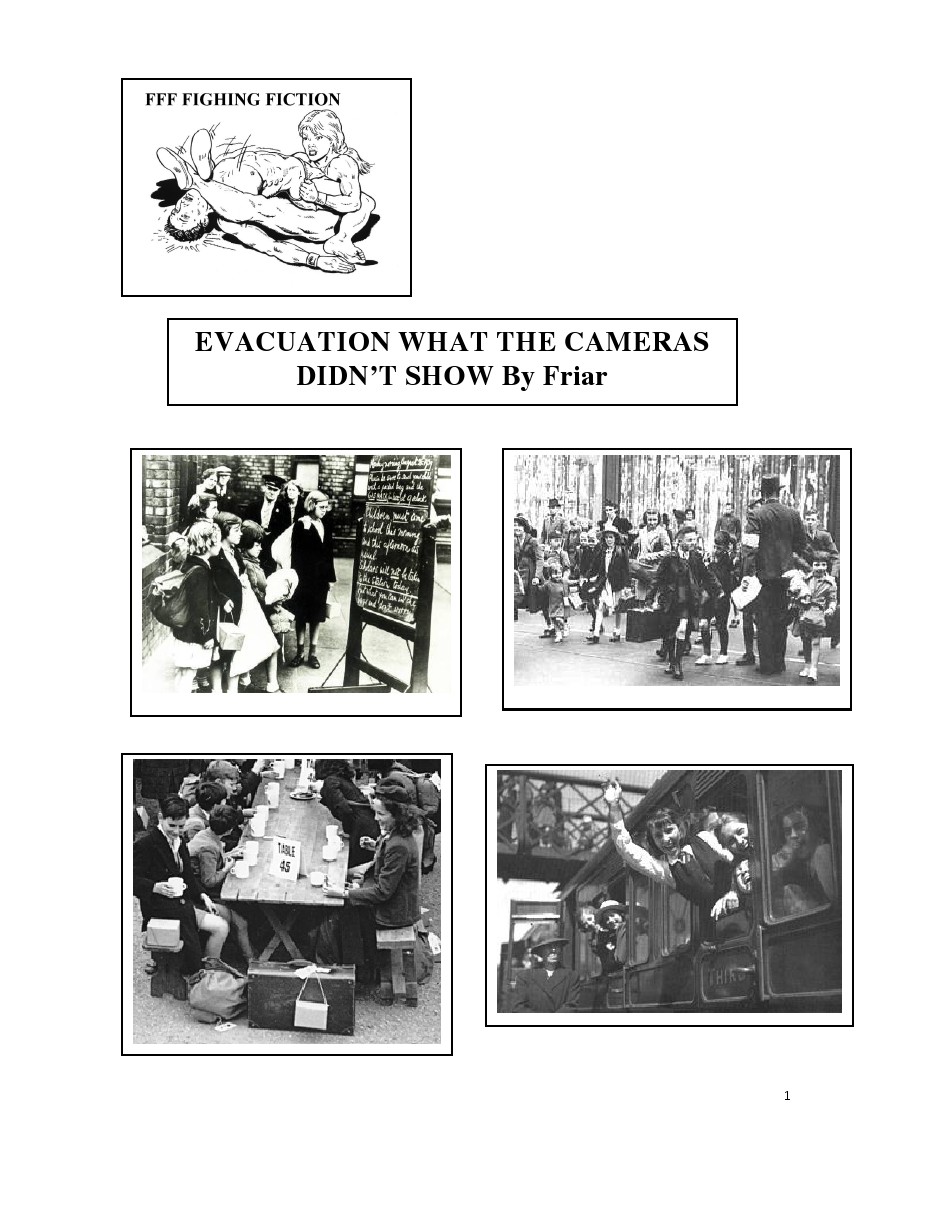 15 HAYLEY MILLS SCHOOLGIRL FIGHT. THIS STORY IS BASED ON A FILM MADE BY HAYLEY MILLS. HAYLEY MILLS PLAYS A POSH RICH ENGLISH GIRL CALLED SUSANNA AT AN EXCLUSIVE AMERICAN PRIVATE SCHOOL. SHE IS THE LEADER OF THE DORMITORY AND IS THE LEADER OF THE NEWS SCHOOL MARCHING BAND. EVERYTHING GOES WRONG FOR SUSANNA WHEN RHODA A GIFTED BUT POOR BLACK AMERICAN GIRL WINS A SCHOLARSHIP TO THE SCHOOL AND IS PLACED IN HAYLEY'S DORMITORY. HAYLEY AND RHODA DO NOT GET ON BOTH BEING LEADER AND WANTING TO BE IN CHARGE. THEY CLASH OVER THE MATCHING BAND AND IT LEADS TO A FIGHT ON THE PLAYING FIELDS. RHODA EASILY BEATS SUSANNA AND HUMILIATES HER BUY RIPPING OFF HER SCHOOL UNIFORM AND STRIPPING SUSANNA TO HER WHITE BRA AND LARGE OLD FASHIONED LOOKING WHITE SILK DIRECTOIRE KNICKERS. RHODA AND THE OTHER GIRLS MAKE FUN OF SUSANNA'S HAYLEY MILL'S OLD FASHION LOOKING UNDERWEAR. SUSANNA NOT ONLY LOSES THE FIGHT AND HER DIGNITY BUT HER PLACE AS LEADER OF THE DORMITORY AND THE SCHOOL MARCHING BAND TO RHODA THE TOUGH BLACK AMERICAN SCHOOL GIRL. €
2.00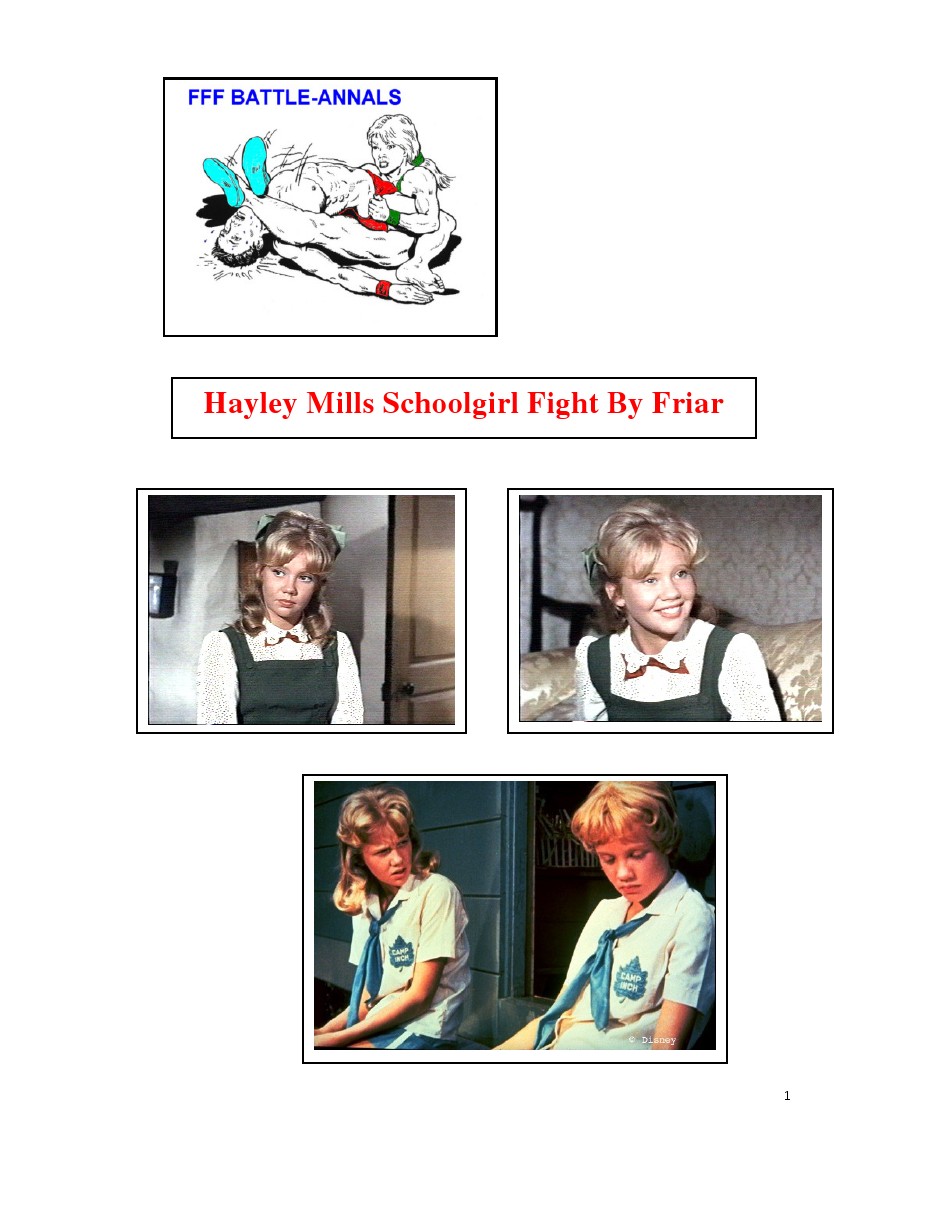 16 FOOTBRAWL MATCH USA V NORWAY. TEAM USA FEMALE TEAM TAKE ON NORWAY. TEAM USA THE UNDERDOGS HELPED BY THEIR BLACK FEMALE STRIKERS BEAT NORWAY IN TOUGH AND VERY DIRTY MATCH FULL OF FOULS MAINLY BY THE TEAM BLACK FEMALE STRIKERS. AFTER THE FINAL WHISTLE WHEN TEAM USA BEATS NORWAY 3-1 FIVE CAT FIGHTS TAKE PLACE BETWEEN THE TEAM USA STRIKERS AND THE NORWEGIAN PAYER THEY FOULED TO WIN. THE TOUGH TEAM USA STRIKERS BEAT AND HUMILIATE COMPLETING THE NORWEGIAN PLAYERS TOTAL HUMILIATION BY REMOVING THEIR SHORTS AND EXPOSING THE LARGE OLD FASHION LOOKING WHITE KNICKERS. VICTORY WENT TO TEAM USA WIN THE FOOTBALL AND THE CAT FIGHTING. GOOD FEMALE V FEMALE FIGHTING ACTION WITH TOUGH BLACK FEMALE FOOTBALLS BESTING WHITE FEMALE FOOTBALLERS. €4.00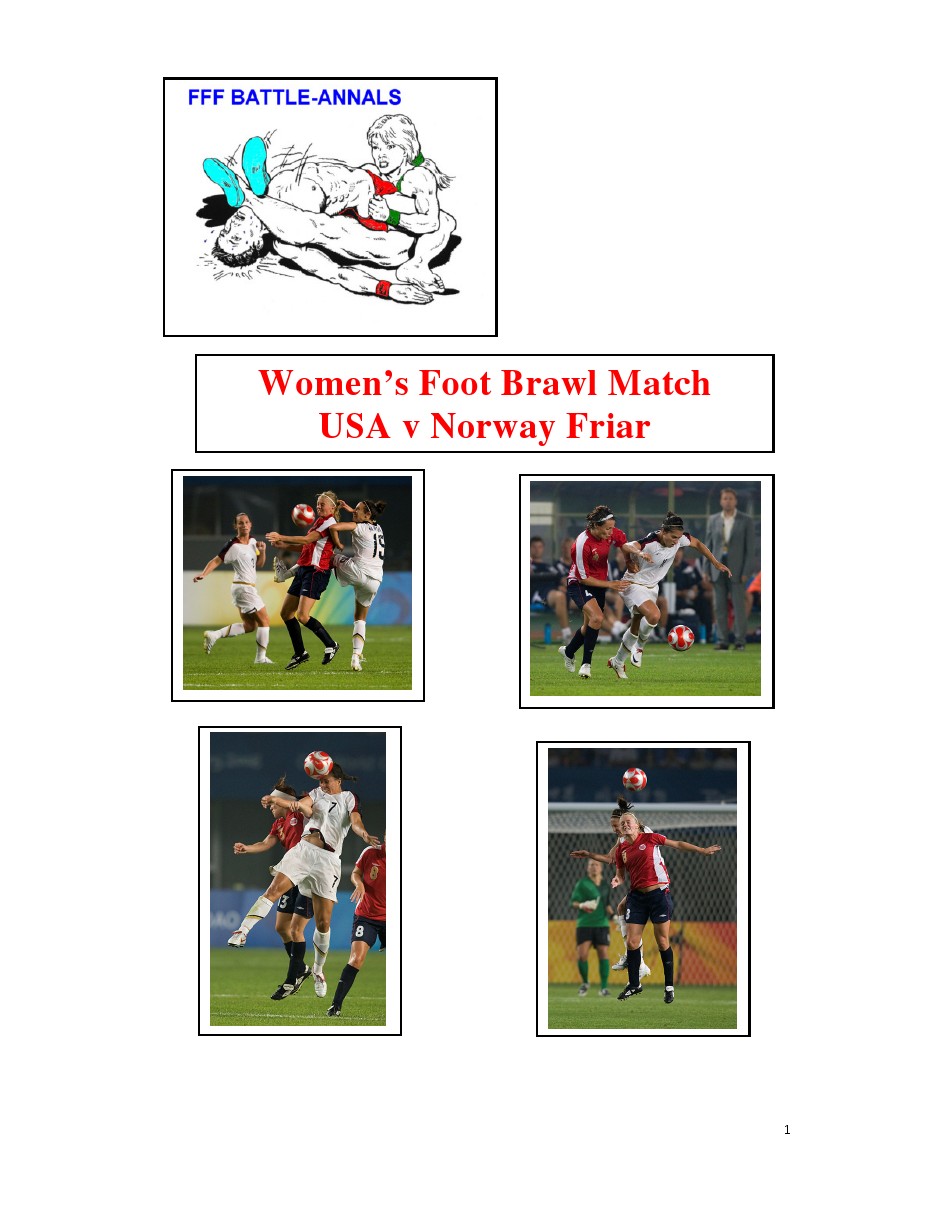 17 WOMEN'S FIGHTING ASSOCIATION PART ONE SIXTEEN TO ONE KNOCKOUT BOUT. THE WOMEN'S FIGHTING ASSOCIATION OR WFA IS AN ORGANISATION DEDICATED TO THE WORLD OF FEMALE FIGHTING. WFA HAS SIXTEEN FEMALE FIGHTING CLUBS AFFILIATED ACROSS THE UK. THE WFA FIRST FEMALE FIGHT NIGHT TAKES PLACE IN EAST LONDON IN FRONT OF A PACKED CROWD OF MEMBERS SUPPORTERS AND FAMILIES OF THE FEMALE FIGHTERS. IT WAS A TWO CONTEST BOUT THE FIRST BEING A SIXTEEN TO ONE KNOCKOUT BOUT INVOLVING A BOXER FROM EACH OT THE AFFILIATED CLUBS. THE BOXERS DRESSED IN SATIN SHORTS AND RING BOOTS OF THEIR TEAMS COLOURS SPORTING SIXTEEN ONE BOXING GLOVES WEARING A WHITE BATHING CAP WITH THEIR NUMBER FROM ONE TO SIXTEEN ON IT BATTLE IT OUT TO SEE WHO THE WINNER WILL BE AND RECEIVE A CUP CHEQUE AND SPONSORSHIP FOR THEIR CLUB.
BOXERS MAY TARGET ANY PART OF THE BODY. TWO GROUPS OF EIGHT BOXERS BATTLE IT OUT IN THE RING UNTIL FOUR BOXER ARE DOWN ON THE CANVAS AT THE SAME TIME AND THEY ARE ELIMINATED. THE OTHER FOUR GO THROUGH TO THE NEXT ROUND. TWO TOUGH BRUTAL AND EXCITING EIGHT WAY BOUTS TAKE PLACE TO DELIGHT OF THE EXCITED CROWD.
TWO GROUPS OF FOUR BOXERS THE WINNERS OF THE TWO FIRST ROUNDS BATTLE IT OUT IN FREE FOR ALL KNOCKOUT FOUR WAY BOUT WHERE BOXER MAY GANG UP ON EACH TO HER. THE BOUT ENDS WHEN THREE BOXERS ARE KO'D THE LAST BOXER STANDING GOES ONTO THE FINAL. TWO BLOODY AND BRUTAL FOUR WAY KNOCKOUT BOUTS ARE CHEERED ON BY THE DELIGHTED CROWD.
THE FINAL FEATURES ELIS HARGREAVES OF THE EXETER CLUB AGAINST SUZY WONG OF THE BIRMINGHAM CLUB. THEY FIGHT A NO ROUNDS ANY THING GOES KNOCK OUT BOUT TO DECIDE THE WINNER. FOR THE FINAL THE BOXERS WEAR THE MORE DAMAGING EIGHT OUNCE GLOVES. AN EXCITING BLOODY AND BRUTAL FINAL MATCH HAS THE CROWD CHEERING LOUDLY. THE BOUT WAS CLOSE FOUGHT BUT ELIS HARGREAVES OF THE EXETER CLUB FINALLY OVERCAME SUZY WONG OF THE BIRMINGHAM CLUB. TO THE DELIGHT OF THE CROWD ELIS HARGREAVES HAD SUZY WONG TRAPPED HELPLESS IN THE CORNER ROPES AND GIVES HER A TOUGH BLOODY BEATING BEFORE FINALLY KNOCKING HER OUT AND CLAIMING VICTORY. TOUGH BRUTAL AND BLOODY FEMALE V FEMALE FIGHTING ACTION WHAT THE WFA IS ALL ABOUT. VERY SIMILAR TO THE RUBBER AND LATEX EXTREME FIGHTERS ILLUSTRATED STORYBOOKS €5.00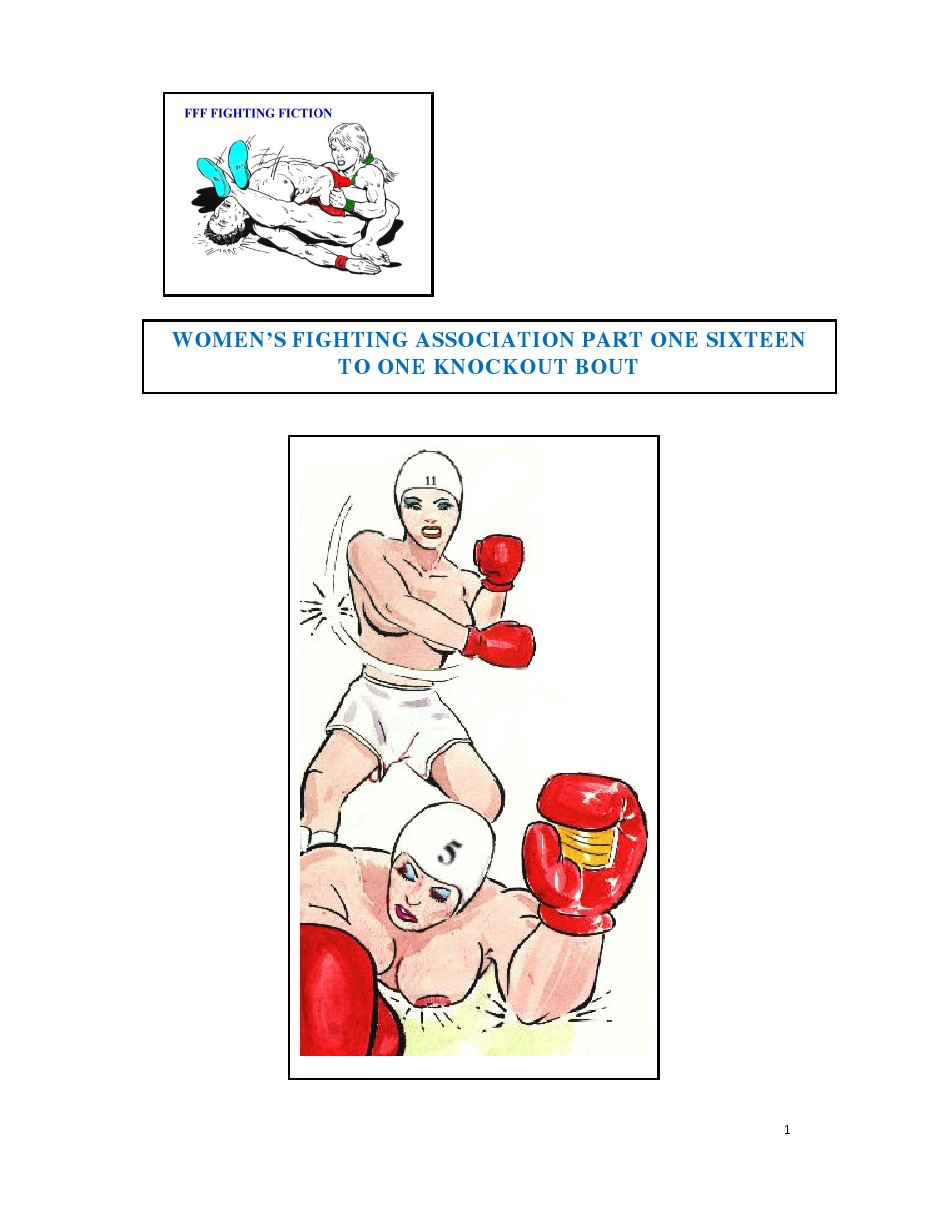 18 WOMEN'S FIGHTING ASSOCIATION PART TWO NORTHERN EUROPEAN BREAST BURSTING CHAMPIONSHIP FINAL. THE FIRST WFA TOURNAMENT ALSO HOST EWFA NORTHERN EUROPEAN BREAST BURSTING CHAMPIONSHIP FINAL. SONIA GRIEG FROM NORWAY TAKES ON BELLA ZLOTD FROM ESTONIA. RULES ARE FIGHTER FIGHT FOUR MINUTE ROUNDS WITH TWO MINUTES REST UNTIL BOTH THEIR OPPONENTS BREASTS ARE BURST AND ONE ON THEM CANNOT CONTINUE. SONIA AND BELLA FOUGHT A BLOODY BRUTAL BOUT FOR TEN ROUNDS BURSTING AND TORTURING EACH OTHER'S BREASTS. IN ROUND TEN BOTH FIGHTER SUCCUMB TOT HEIR PUNISHMENT AND FALL TO THE CANVAS. THE REFEREE WAS FORCED TO STOP THE FIGHT UNTIL BOTH FIGHTER AD THEIR BREASTS TREATED AND THEN THE FIGHT WOULD CONTINUE WITH BOXER FIGHTING ALL OUT TO KO TO DECIDE THE WINNER.
WHILE THE EXCITED CROWD WAITED AN EXTRA TIT CALL MATCH TOOK PLACE BABS OF SCOTLAND TOOK ON JANE OF ENGLAND IN A BRUTAL AND BLOODY TIT CALL MATCH. THE RULES WERE THE BEST OF FIVE TIT CALLS OR A THIRTY SECOND KO. BABS AND JANE ATTACK EACH OTHER'S BREASTS MERCILESSLY INFLICTING BLOODY PAINFUL DAMAGE AND SCORING ONE TIT CALL EACH. JANE FINALLY WINS THE BLOODY BRUTAL TIT CALL MATCH FOR ENGLAND BY THREE TIT CALLS AND ONE THIRTY SECOND KO TO ONE TIT CALL.
NORTHERN EUROPEAN BREAST BURSTING CHAMPIONSHIP FINAL RESTARTS WITH SONIA AND BELLA WEARING BREAST PROTECTORS. THEY FIGHT ALL OUT MERCILESSLY BATTERING AND POUNDING EACH OTHER'S BODIES FOR SIXTEEN ROUNDS WITH NO SIGNS OF A WINNER. THE REFEREE CONVINCES SONIA AND BELLA TO REMOVE THEIR BREAST GUARDS AND BATTER EACH OTHER'S BREAST UNTIL ONE SUCCUMBS TO A THIRTY SECOND KO. SONIA AND BELLE FIGHT NONE STOP INFLICTING CRUEL AND BRUTAL PUNISHMENT TO THEIR INJURED BREASTS AND BODIES UNTIL SONIA WINS FOR NORWAY BY A THIRTY SECOND KO OVER BELLA. A BLOODY BRUTAL AND EXCITING CONCLUSION TO WFA'S F FIRST TOURNAMENT. VERY SIMILAR TO THE RUBBER AND LATEX EXTREME FIGHTERS ILLUSTRATED STORYBOOKS €5.00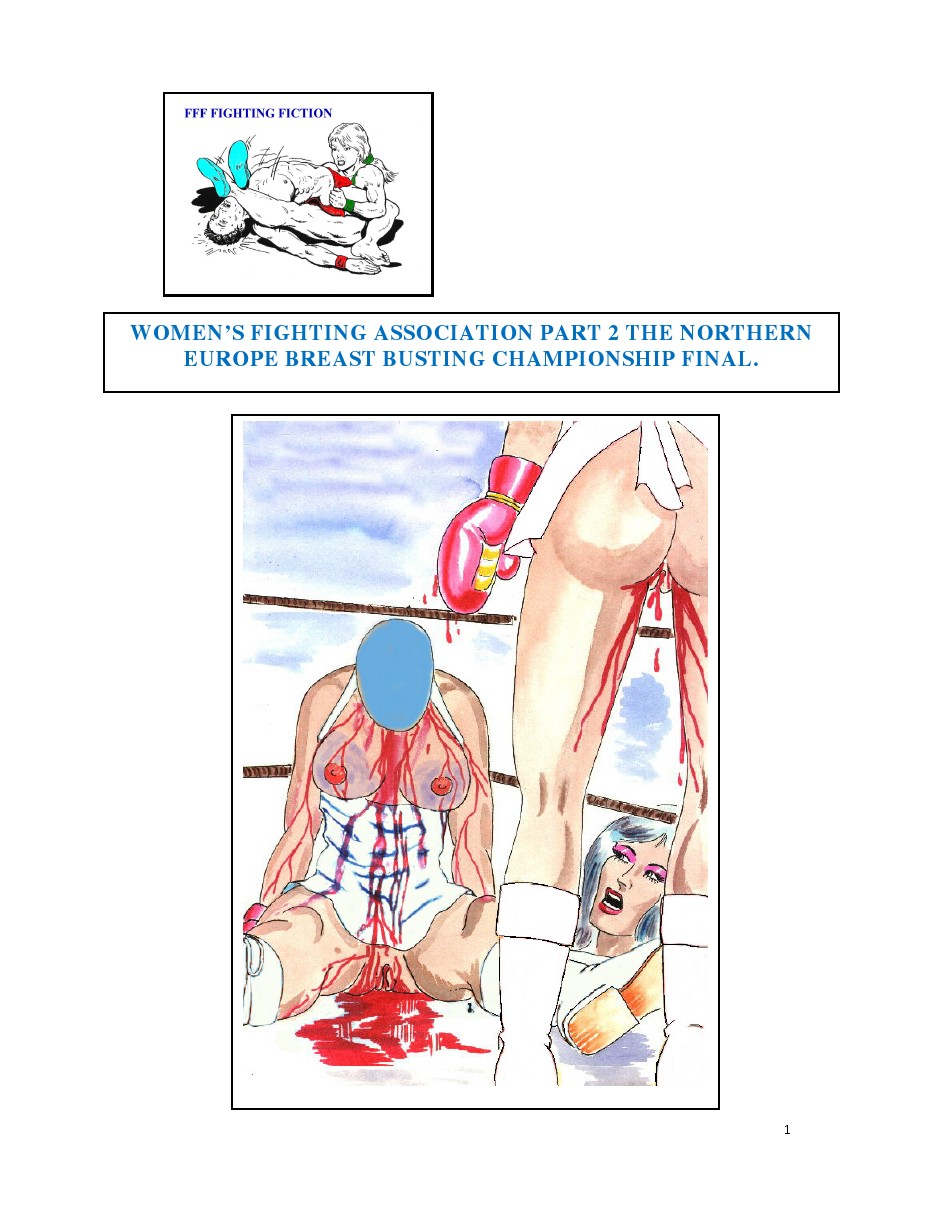 19 LOCKER ROOM CHAMPION JELENA DOKIC V ALEXANDRA STEVENSON. FEMALE TENNIS STARS CHAMPION JELENA DOKIC AND ALEXANDRA STEVENSON COME TO BLOWS IN LOCKER ROOM BEFORE THEIR MATCH IN THE MONTREAL OPEN. THEIR FIGHT WAS OVER JELENA DOKIC'S ATTITUDE TO ALEXANDRA STEVENSON PARTICULARLY HER SNOBBISH AND RACIST INSULTS. THEIR SHORT BUT EXCITING AT FIGHT IS WITNESSED BY GEORGE AND OFFICIAL OF THE WORLD TENNIS ASSOCIATION. GEORGE WAS FORCED TO BREAK UP THE FIGHT WHICH ALEXANDRA STEVENSON WAS WINNING WHEN IT WAS DISCOVERED BY A FEMALE OFFICIAL SENT TO SEE WHY THEY WERE NOT ON COURT.
THEIR NEXT WAS WITNESSED BY GEORGE WAS FEW MONTH LATER AFTER PLAYING EACH OTHER AT THE FRENCH OPEN IN PARIS. THEIR SECOND CAT FIGHT WAS MUCH LONGER AND MUCH MORE VIOLENT WITH RACIAL INSULTS EXCHANGED ALEXANDRA STEVENSON DOMINATED MOST OF THE FIGHT AND WON WHEN SHE STRIPPED JELENA DOKIC TO HER UNDERWEAR AND FORCED HER TO APOLOGISE FOR ALL HER RACIST REMARKS. TOUGH AND EXCITING CAT FIGHT ACTION WITH PLENTY OF CLOTHE TEARING AND UNDERWEAR EXPOSURE AND HUMILIATION. €3.00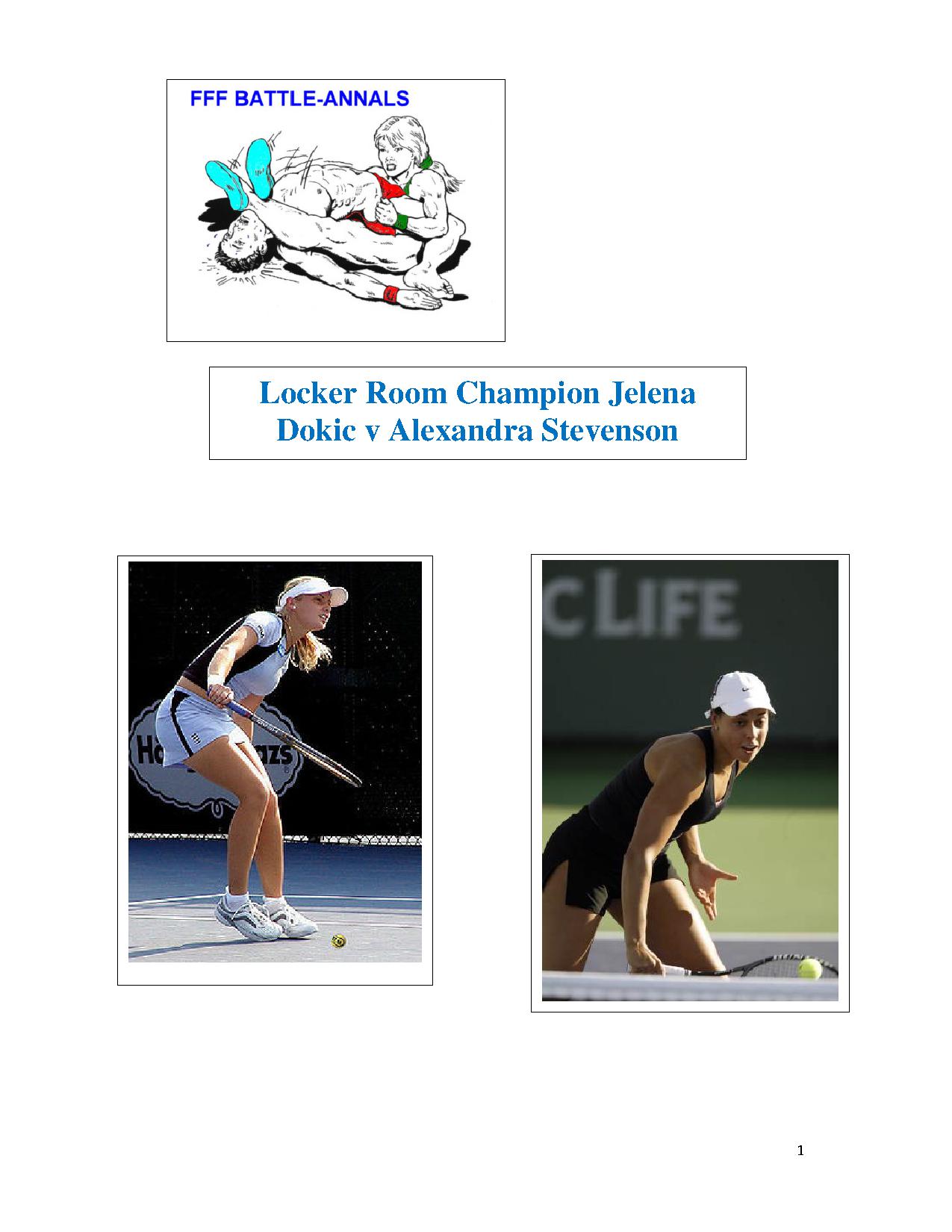 20 MUGGERS BRAWL. A SUNDAY MIRROR JOURNALIST FOLLOWS THE EXPLOITS OF THREE YOUNG BLACK TEENAGE FEMALE MUGGERS, STAB LADY TEASER AND LITTLE MISS. THE THREE BLACK FEMALE MUGGERS FIRST TRICK FIVE TEENAGE FEMALE CHINESE TOURIST TO SECLUDED SPOT AND BEAT AND ROB THEM. TEN THE THREE MUGGERS FOLLOW A OLDER WHITE WOMAN IN A RED DRESS UNTIL SHE IS ISOLATED AWAY FORM HELP AND SHE IS BEATEN UP ROBBED AND HER DRESS TAKEN LEAVING HER IN JUST HER UNDERWEAR. FINALLY THE THREE MUGGERS SNATCH A BAG FROM THREE WHITE TEENAGE SCHOOL GIRLS LOST ON A SCHOOL TRIP TO LONDON WHEN THE SCHOOLGIRLS GIVE CHASE TH MUGGERS LEAD THEM TO PLACE WHERE THEY CAN BE AMBUSHED BEATEN AND ROBBED. GOOD FEMALE ONE SIDED FIGHT ACTION WITH VICTIMS TAKING PAINFUL BEAT DOWN AND BEING HUMILIATED BY HAVING THEIR UNDERWEAR EXPOSED. €2.00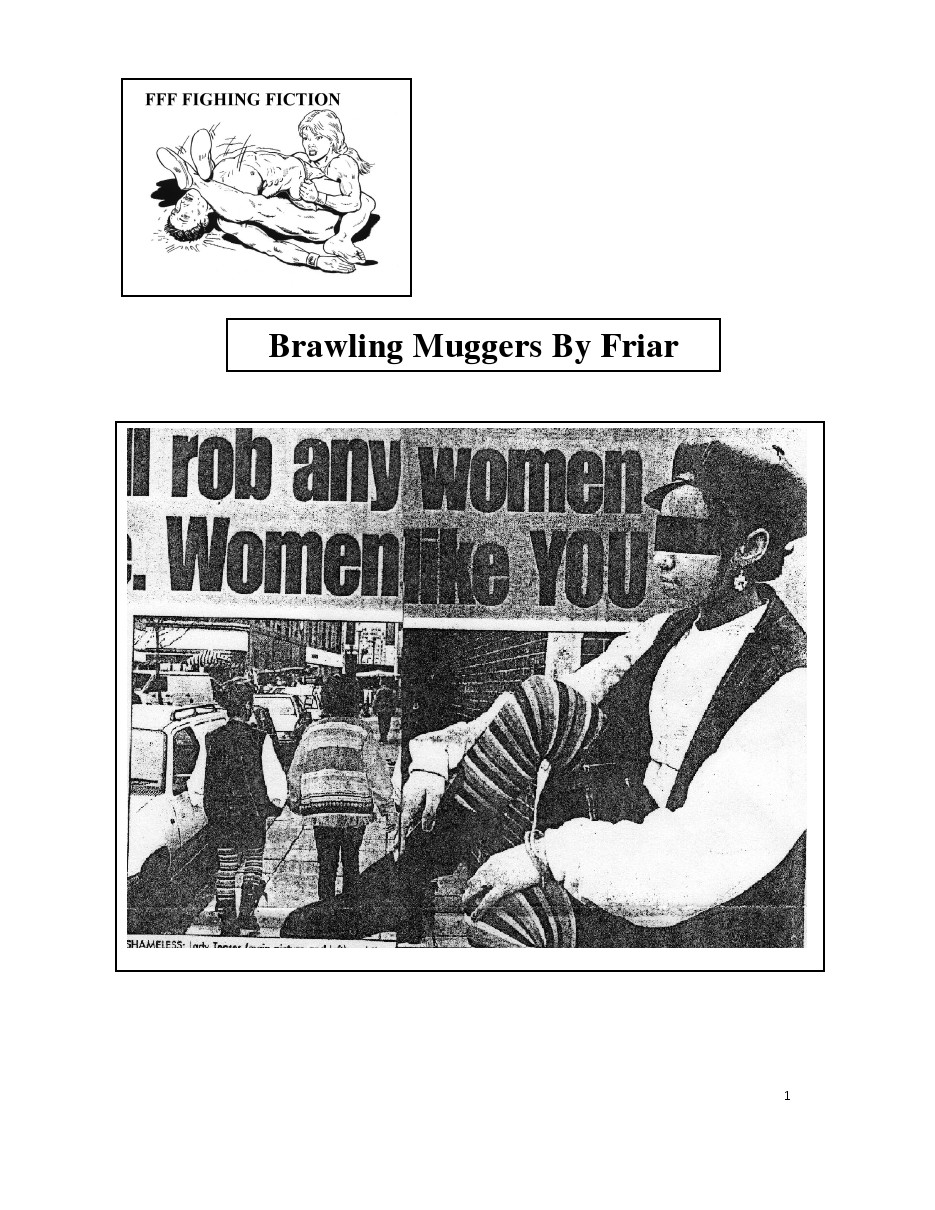 21 SALLY BOWELS TAKES THE PLUNGE A WOMEN'S FIGHTING ASSOCIATION WFA STORY. SALLY BOWELS AN AMATEUR WFA FIGHTER HAD HER WFA PROFESSIONAL DÉBUT AGAINST ANOTHER WFA AMATEUR FIGHTER BETSY FRANKS. THEY BATTLE IT OUT IN A WFA SPECIAL A CUNT AND BOOB MATCH THE WINNER BECOMING A NEW WFA PROFESSIONAL FIGHTER. CUNT AND BOOB FIGHTS ENTAIL FIGHTERS DOING AS MUCH DAMAGE AS POSSIBLE TO EACH OTHERS BREASTS AND CUNTS. THERE IS NO LOVE LOST BETWEEN SALLY BOWELS AND BETSY FRANKS WHO BOTH COME FROM LEEDS AND RIVAL WFA CLUBS. DRESSED IN RUBBERS THEIR BOOSTED BREAST BARED AND AND THE SHAVEN CUNTS EXPOSED WITH RUBBER GLOVES WITH ABRASIVE PADS ON THE KNUCKLES AND FINGER TIP TO INCREASE THE DAMAGE THEY INFLICT ON THEIR EXPOSED BOOSTED BREASTS AND SHAVEN CUNTS. THEY FIGHT A BRUTAL BLOODY AND EROTIC CUNT AND BOOB MATCH IN FRONT OF EXCITED RUBBER CLAD MEMBERS OF THE WFA.
THE FIGHT IS BLOODY AND BRUTAL WITH BOTH FIGHTERS PUNISHING THEIR BOOSTED BREASTS AND SHAVEN CUNTS DRAWING LOTS OF CUNT AND TIT BLOOD TO THE DELIGHT OF THE EXCITED RUBBER CLAD MEMBERS OF THE WFA EAGERLY WATCHING. THE RUBBER CLAD REFEREE WHO IS THERE TO MAKE SURE THE FIGHTERS INFLICT MAXIMUM PAIN AND SUFFERS IN THE BEST STANDARDS OF THE WFA NOT TO ENSURE FAIR PLAY. THE REFEREE URGES THEM ON TO INFLICT PAIN AND DRAW BLOOD. THE FIGHT GOES TO FIVE BRUTAL BLOODY ROUNDS WITH BOTH FIGHTERS SUFFERING PUNISHMENT AND TRAUMA TO THE BOOSTED BREASTS AND CUNTS. HOWEVER SALLY BOWELS BEATS BETSY FRANKS LEAVING HER BADLY INJURED AND BECOMES THE NEW WFA PROFESSIONAL FIGHTER. LONG BLOODY AND BRUTAL BATTLE OF ATTRITION BETWEEN TWO RUBBER CLAD FEMALES. €4.00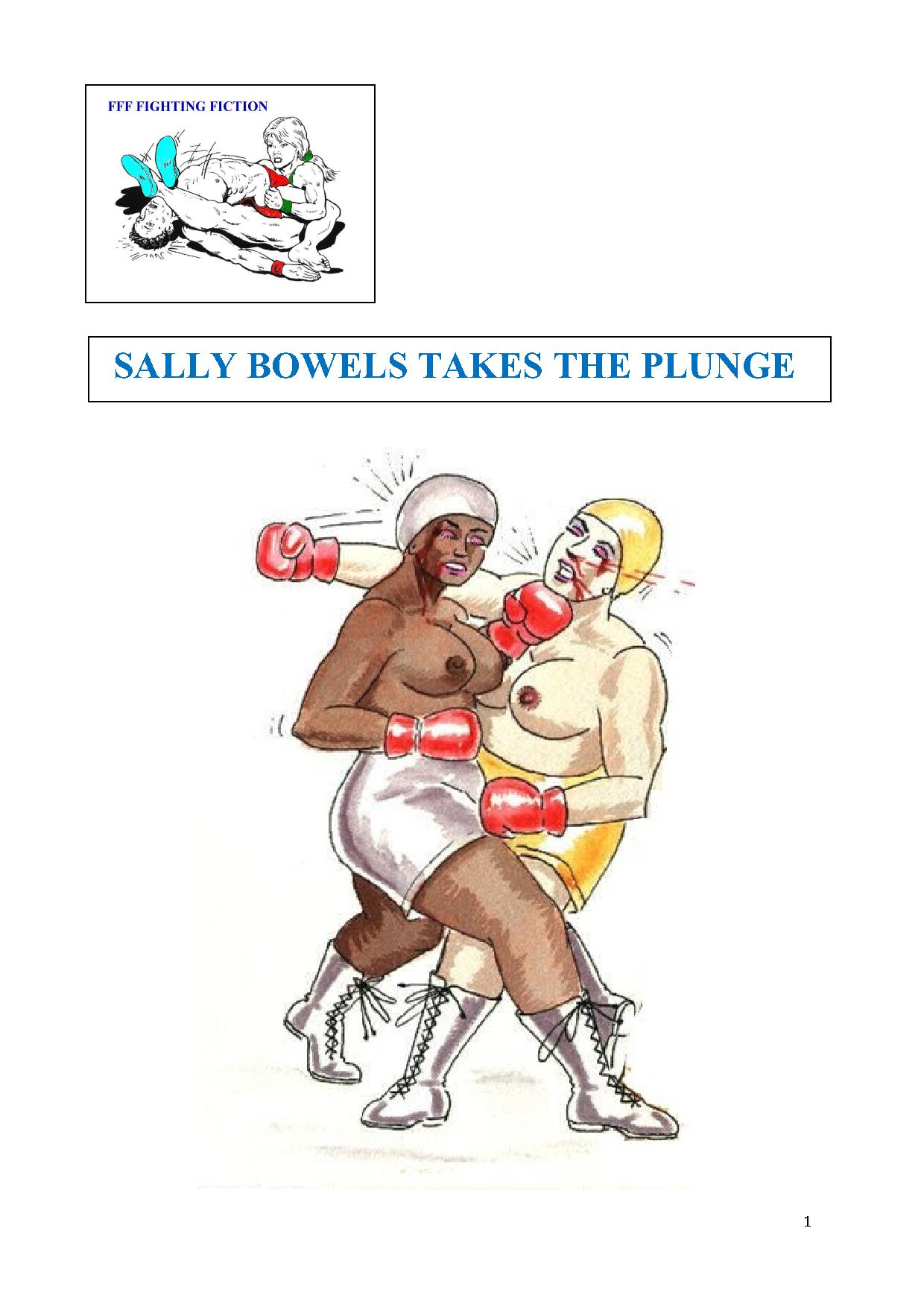 22 BLOOD ON THE CANVAS. WFA UK CHAMPION SALLY BOWELS TAKES ON WFA EUROPEAN CHAMPION ERNA LINKA OF GERMANY AT THE WFS (WOMEN'S FIGHTING ASSOCIATION) TIT AND CUNT MAULING CHAMPIONSHIP BOUT AT THE WFA OCTOBER FEST IN OLDENBURG NORTHERN GERMANY. SALLY BOWELS DEFEATED ERNA LINKA IN ALONG BRUTAL AND BLOODY TIT AND CUNT MAULING CHAMPIONSHIP BOUT TO BECOME THE NEW WFA UK AND EUROPEAN CHAMPION. ALTHOUGH SALLY WON SHE WAS BADLY INJURED AND WAS HOSPITALISED AND HELP BACK TO HEALTH AND FITNESS BY SPECIALIST RUBBER NURSE CALLED RUTH. RUTH HELPED SALLY PREPARE FOR HER NEXT FIGHT IN THE USA HER FIRST EVERY CAGE FIGHT.
SALLY BOWELS FIRST USA CAGE MATCH WAS IN ATLANTA AGAINST JESSE JONES FROM OHIO. SALLY MADE SHORT WORK OF JESSE JONES POUNDING AND BLOODYING RUBBER CLAD CUNT WITH FIST AND KNEE WHILE RIPPING HER TITS TO SHREDS ON THE WIRE FENCE OF THE CAGE. ALTHOUGH ON THE VERGE OF COLLAPSE JESSE JONES WOULD NOT SUBMIT AND DEFIED SALLY TO FINISH HER. SALLY FINISHED JESSE JONES SMOTHERING HER TO A KO WITH HER RUBBER KNICKERS SPLASHED IN JESSE JONES'S CUNT AND TIT BLOOD. SALLY HAD ONE HER FIRST USA CAGE MATCH IN SPECTACULAR FASHION BY LITERALLY DESTROYING HER OPPONENT.
SALLY'S NEXT BOUT CAME BY INVITATION FROM THE LADIES SPORTS CLUB OF ATLANTA AN OPEN RING TEN ROUND BOXING MATCH AGAINST THEIR PRESIDENT CHARLMAINE DE JON. THE FIGHT WENT THE FULL DISTANCE ALL TEN ROUNDS AND ALTHOUGH SALLY BATTERED AND BLOODIED CHARLMAINE DE JON DOWNING HER SEVERAL TIMES, CHARLMAINE DE JON REFUSED TO STAY DOWN HONOURING THE LADIES SPORTS CLUB OF ATLANTA IDEAL OF ALWAYS FIGHT TO WIN AND NEVER GIVE IN. SALLY WAS DECLARED THE WINNER AND INVITED TO A LADIES SPORTS CLUB OF ATLANTA DINNER AS A GUEST OF HONOUR. THE DINNER WAS ATTENDED BY MEMBERS OF THE ALL LADIES FIGHT CLUBS IN GEORGIA. SALLY GAVE THE DINNER GUESTS A ROUSING SPEECH BEFORE HER NEXT MATCH IN TEXAS.
SALLY BOWELS NEXT MATCH WAS IN DALLAS TEXAS FOR THE WFA CAGE MATCH CHAMPION. SALLY BOWELS WFA UK AND EUROPEAN CHAMPION FOUGHT AGAINST TINA THOMAS ALIAS T.T.T THE WFA USA AND LOCAL CHAMPION. THEY WILL FIGHT IN THE FIRST INTERNATIONAL WFA TIT AND CUNT MAULING WORLD TITLE CHALLENGE CAGE BOUT BETWEEN EUROPE AND THE USA. IT WOULD BE A FIGHT OF AS MANY FIVE MINUTE ROUNDS AS WAS NEEDED UNTIL ONE FIGHTER WAS UNABLE TO CONTINUE. THEY WOULD FIGHT WITH SPECIALLY MODIFIED MMA GLOVES WITH TOUGHENED FINGER AND THUMB PADS. SALLY AND TINA FOUGHT A TOUGH BLOODY AND BRUTAL BATTLE DRAWING EACH OTHERS TIT AND CUNT BLOOD, WITH FIRST ONE THEN THE OTHER GETTING THE UPPER HAND. BUT SLOWLY SALLY TOOK CONTROL AND POUNDED TINA MERCILESSLY RIPPING HER TITS OPEN ON THE WIRE FENCE OF THE CAGE. SALLY DOWNED HER BLOODIED AND DEFEATED OPPONENT AND LITERALLY USES HER MMA GLOVES TO RIP HER CUNT AND TITS APART. SALLY FINISHED TINE OFF MY SMOTHERING HER WITH HER NAKED CUNT COVERED IN TINA'S BLOOD UNTIL SHE STOPPED BREATHING. TINA'S DEATH RATTLE CONFIRMED SALLY'S KO AND KILL AND MADE HER THE FIRST WFA WORLD CHAMPION. MORE BRUTAL AND BLOOD RUBBER CLAD MERCILESS WFA FEMALE V FEMALE ACTION. €3.00